Finding Business Wear for Plus Size Women doesn't have to be a struggle when you keep these tips for plus size women in mind.
Tips for Plus Size Women by a Plus Size Woman
Prepare to Shop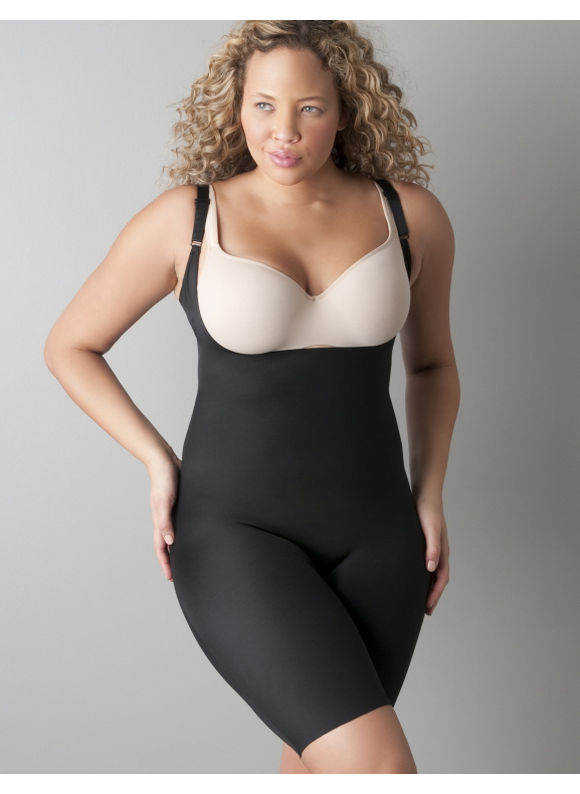 I'll never forget the shopping trip which changed the way I not only looked at my body – but shopping for plus size business wear as well.
I headed to the mall in my typical "weekend" attire.  In other words, I was dressed for comfort – not for work.  You know – baggy sweat pants, a shapeless t- shirt… the kind of things you'd never want caught wearing on camera for fear of ending up on an episode of "What Not to Wear".
For some reason, I was surprised when everything I tried on that day looked frumpy,dumpy and shapeless.
Then, I decided to take a new bra and body shaper into the fitting room.  The outfit which had looked "frumpy and dumpy" before now looked – well GREAT!  Needless to say – I bought the outfit AND the bra AND the body shaper.
Foundation garments can make or break your business wardrobe. They can change your life and the way you not only dress your body but how your feel about it as well.
For tips on getting the proper foundation garments – check out Before You Begin Shopping: What Every Plus Size Woman Must Know
Size is only a Number
Different designers have different sizing criteria.  You may be a size 18 in one designer's line but be a size 22 in another line.   Don't worry about the number on the tag – worry about how the clothes fit your body.
If you're like most plus size women – you'll rarely find the perfect fit off the rack in any store.  (Let's be honest – it's not just plus size women who can't find clothes to fit their body.  It seems to be a "female" problem… because men get to buy their clothing by their waist and inseam measurements!  But that's another rant for another day!)
When it looks like a trip to the tailor is in the cards – remember the rule of "Buy big – tailor down".  As a general rule, it's far easier for your tailor to take clothing  in rather than let clothing out.  Buy to fit the largest part of your body – and then tailor the rest to fit.
Watch Stripes and Prints
Horizontal stripes aren't ANY woman's friend – especially plus size women.  Unless you're trying to get your size 16 top to match your size 28 bottom – avoid horizontal stripes.
When it comes to print – bigger is often better.  The same print that overwhelms a tiny size 6 looks great on a plus size woman.
As a general rule, avoid teeny tiny print designs.  Just because it looks great on your sofa doesn't mean it should be stretched across your body.
Pleats are evil
Pleated skirts and pants that is.  Pleats are a  horrific and evil little designer devices which add lumps and bumps where they don't belong on your body!
We'll decide later where to meet to form a lynch mob to string those designers and retailers up and give them what the deserve. – but for now – just avoid pleats!  They're evil and if you own a pair and see a friend who also owns a skirt of pair of pants with pleats – get together and burn them triumphantly together.  Seriously – pleats are not your friend.
Avoid the MuMu
Too many plus size women opt for clothing which doesn't touch their body except at the shoulders.  Seriously – no one should wear a mumu – not even you.
Buying your clothes "mumu" style just makes you look not only shapeless – but bigger to boot.  Buy your clothes to FIT your body.
I know – I know – I'm guilty of this as well.  Recently – I picked up a shirt without trying it on and discovered the shirt was too big on me when I got it home (See – "size is just a number" above)  Of course, I'm too lazy to take the shirt back – so I wore it.  My daughter did me a favor and "accidentally" spilled olive oil on it.  (How that "accident"  happened when the shirt was in the hamper remains a mystery. )  I liked the shirt – so my daughter offered to pick up a replacement.  I had failed to notice until I tried it on that the shirt was TWO sizes smaller than the one I bought.
I had to agree – wearing that shirt in a size that actually fit visually took 20 pounds off.  Lesson learned.
If you've tried to "hide" your self in shirts , tops and dresses that fit "mumu" style,  on shirts, skirts and pants in a size smaller than you think you wear.
The most valuable tip I can offer to plus size women who are struggling to find clothes which fit and flatter their bodies is this:  YOU ARE NOT ALONE.  Heck – you don't even have to be plus size to have trouble finding clothes which fit the body God gave you.  The best investment you can make in your wardrobe is to find a talented tailor and allow him/her to take off the rack clothes and make them fabulous for your body!