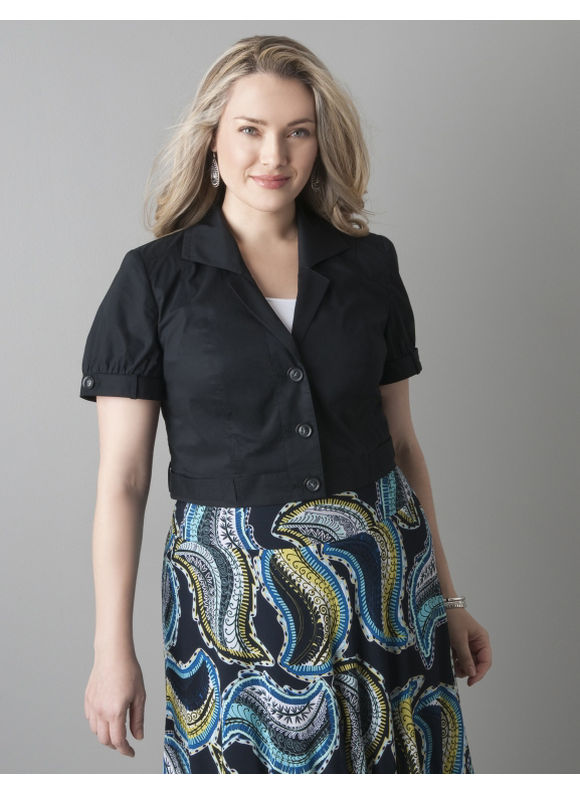 I truly don't get the fashion industry's lack of respect for women who fall into the plus size category. More than half of us are defined as plus sized so there is no logical reason for the lack of plus size business clothes for women.
Have you tried finding plus size business clothes – or any plus size clothes lately at your typical department store in the mall?


If you're plus size – and you're lucky – you'll be able to find the plus size woman's section  tucked away and out of sight.  That tiny corner will contain a few casual items, a few formal items and a few outfits suitable to wear in a business situation.   In many stores, more floor space is dedicated to accessories like handbags and jewelry than is assigned to plus size fashions.  Meanwhile – the typical department store will have an entire section – sometimes a floor dedicated to "casual wear" and "work wear" options for those who are not "plus size".

If you're a full figured woman searching for work wear for the office, save yourself the frustration of shopping in the mall and search online.
Online Shopping Options for Plus Size Business Suites
Lane Bryant "gets" plus size women.  They understand that we're women with curves and full lives.  They are one of the few retailers who seem to understand that size doesn't keep a woman out of the board room – however business attire is affordable so you can look like you're ready for the CEO promotion without spending a CEO's salary.
Their high quality affordable business attire makes this retailer your first stop – online or offline – for professional business attire for the plus size woman.
Their online selection is great – plus you can score some great deals by shopping online.
While every woman can benefit from the proper "foundation" garments – working mothers  (a.k.a. women who have given birth) must make this a top priority in their wardrobe.  For more information  on this subject- check out Before You Begin Shopping: What Every Plus Size Woman Must Know.
I particularly like Lane Bryant's high quality "foundation garment" selection.  Their online selection of body shapers, bras and other support garments is first rate.
If you don't own a body shaper yet – order one – wear it – and see what a difference in makes in how your clothes look.  'Nuff said.
One Stop Plus not only offers women's sizes 14- 44 – they've also got clothes for big and tall men as well.    They carry top brand names like Gucci, Liz Clairbourne and Jessica London.   Check out their 80% Outlet center for great steals and deals.
Many of the fashions offered at One Stop Plus will literally make you do a double take.  If you've ever leafed through a magazine, seen an outfit you love only to discover it's only offered up to a size 12 – then you'll love One Stop Plus.  When you browse the site, you'll literally be thinking, "I can't believe they have THAT darling outfit in my size!"
Curvety.com is an online retailer dedicated exclusively for full figured women.   The site offers an amazing selection of plus size women's clothing in sizes 16 to 36.
If you're part of the majority and wear a size 14 or larger, you'd better get used to shopping online to find plus size business clothes for women. If you've found a great shop online – feel free to let us know about it in the comments section below.